A3E, the Artists + Advanced Audio Applications Exchange: www.A3exchange.com
A3E, the Artists + Advanced Applications Exchange, is a leading industry resource dedicated to the future of advanced audio applications and new music technologies. A3E uniquely targets the audiences of 1. Developers & Programmers of Music & Audio Technologies, 2. Audio Professionals & Musicians, and 3. Manufacturers of next-generation Music & Audio Technologies. Through its portal and industry events, A3E coalesces these three audiences into one complete ecosystem to help shape the future of the audio industry.
The flagship A3E Event offers an 'Exchange' platform where the industry gathers to discuss and see the future of new music and audio applications & technologies. The A3E Event offers three dedicated tracks; 1. the A3E ADC™: Audio Developers Conference, 2. the A3E P2™: Production + Performance Conference, & 3. the A3E PMBS™: Product, Market, & Business Strategies Conference. Each Conference offers dedicated educational and strategic content for each of A3E's core audiences. A3E's MasterMind Keynotes, Deep Dive Sessions & Architects of Audio Series provide world-class speakers, and forward-thinking topics in order to Exchange ideas, information & forge new relationships.
The  mission of A3E and A3E Research + Advisory Services (ARAS) is to explore The Future of Music + Entertainment Technology™ and The Tools + Business of A3E Digital Artistry™. Since 2013 (see A3E's Archives and History), A3E has created an Exchange environment to do so.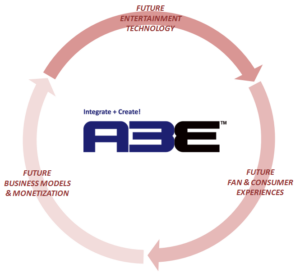 The A3E Exchange is a catalyst for the creation and development of new applications, tools, instruments, technologies and business models. A3E fosters development in both the creative tools and subsequent content creation using these tools – this is what we call A3E Digital Artistry™.
The A3E Exchange brings key stakeholders to the table to explore and discuss new opportunities, share their expertise, thoughts, ideas, and products. Our goal is to have the stakeholders explore how the impact of the new tools and content of A3E Digital Artistry™ on content creators, fans and consumers, and ultimately the businesses of the Entertainment Technology industry.
Finally, A3E + ARAS takes these two factors the development and emergence of new entertainment platforms, technologies and content, along with insights and expertise of key industry stakeholders' feedback, discussions, ideas, and to provide the Entertainment Technology industry with agnostic, unbiased and independent research, data and business intelligence for use in strategic decision making.
A3E has seen for decades that the traditional entertainment and music industries saw the key stakeholders as the artists and content creators working with the instrument and tool manufacturers;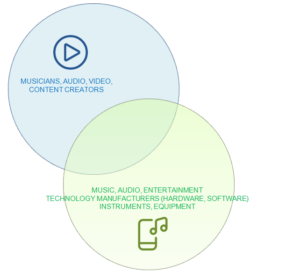 But then an amazing new group of stakeholders became a major new impact and force in helping advance the content creation process and how artists and content creators could deliver and interact with their fans and consumers – independent software and hardware developers. This growing and dedicated developer force is where A3E + ARAS have chosen to add to their focus on the future of music and entertainment technology, and to make sure they are brought to the table as well;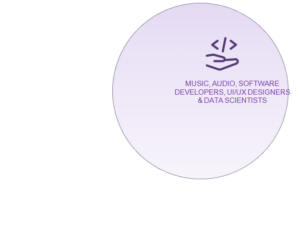 The A3E + ARAS Exchange centers its world and focus on this key grouping of stakeholders that are developing new content creation tools allowing for content creators to unleash unlimited and paradigm shifting creativity of the Entertainment Technology industry and how fans and consumers will experience their art;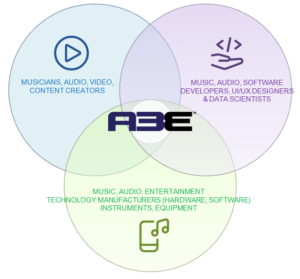 The A3E + ARAS exchanges, events, summits, workshops, research, surveys, and partnerships uniquely enable our customers to understand what is emanating from these three domains to inform their product development efforts, content creation and new A3E Digital Artistry™ tools, and the new instruments, hardware, software, and platforms that will be used by consumers. This is what A3E + ARAS are all about! The Future of Music + Entertainment Technology™ and The Tools + Business of A3E Digital Artistry™.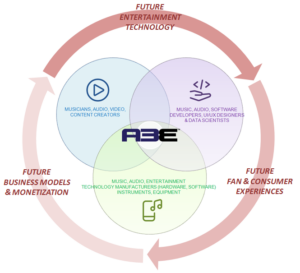 ™Concert: a Strategic Planning Think Tank + Retreat for the Architects of Audio, Music + Entertainment Technology™

concert (verb);  As a verb, "concert" means to plan, organize, or arrange something in a cooperative or coordinated manner. It involves coordinating or synchronizing efforts, actions, or ideas to achieve a common goal. In this context, "concert" implies collaboration, cooperation, and working together harmoniously.
concert (noun);  As a noun, "concert" refers to a musical performance or event where musicians or performers entertain an audience by playing live music. It can also refer to a public exhibition or display of skill, coordination, or cooperation in various fields, beyond just music. In this broader sense, "concert" denotes a harmonious and unified effort or a collective undertaking to achieve a desired outcome.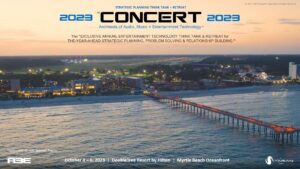 EVX: The Electric Vehicle + Energy Infrastructure Innovation & Sustainability Exchange™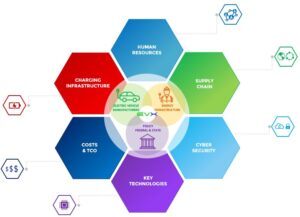 The EV Exchange's Strategic Mission + Vision: To provide a strategic, business-to-business program and platform allowing three key stakeholder communities of 1. EV manufacturers and its ecosystem, 2. Energy and utility infrastructure organizations and their suppliers and, 3. Federal, State & Local Energy & Utility Agencies, Regulators & Policymakers, to work in partnership to plan, execute and achieve EV deployment and meet sustainability & climate change goals.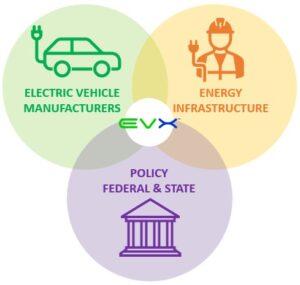 The program, will offer the stakeholder communities the forum to meet and educate each other about the operations, infrastructure, investment, cost recovery, regulatory and policy issues with the expanding deployment of EVs and EV infrastructure to execute and achieve goals for effective EV deployment and to meet climate change goals and balance policy issues around ESG.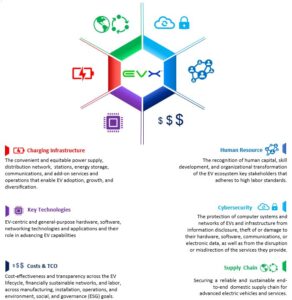 The EV Exchange will strategically leverage a three pronged program of collaborative think tanks, strategic research and data analysis via community engagement, and then creating an Exchange format via webinars, educational conferences, and tradeshows components to digest, analyze the research data on a collective industry-whole dialogue, while looking to provide recommendations and actions.
Electric Vehicles, Energy Infrastructure, Policy & the Future of Mobility™
Sitarian Corporation, Sitarian Research + Advisory Services and Sitarian Events + Programs operate and conduct their practices as an independent, unbiased, objective, and agnostic industry resource, with the primary goal of providing realistic, actionable, practicable business insights, information, as well as educational programming and content.